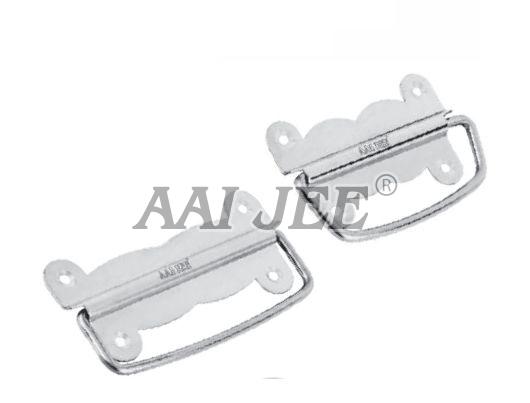 A group of iron-based alloys with the name "stainless steel" are renowned for withstanding heat and corrosion. With a minimum chromium content of 10.5%, stainless steel has one of the key characteristics. Such alloys are offered by stainless steel chest handle manufacturers. It sets it apart from other types of steel in terms of corrosion resistance.
What are Stainless Steel's Characteristics?
Stainless steel is widely used in the production of parts and components. It is produced across a variety of industrial industries. It possesses several attractive qualities. It is incredibly corrosion-resistant mostly due to its high chromium concentration.
Steel has a 200-fold greater corrosion resistance. The chromium content is at least 10.5%. Its great strength and durability, improved formability and low are additional benefits for consumers. It is not necessary to treat, coat, or paint stainless steel once it has been put to use.
Stainless Steel Grading Scales
Stainless steel is categorised numerically based on composition and physical characteristics. The most popular series are 200, 300, 400, 600, and 2000. Types 304 and 316 austenitic chromium-nickel alloys are the most widely used grades.
The 400 Series of stainless steels are used to make cutlery. They are derived from ferritic and martensitic chromium alloys. Type 420 is referred to as surgical steel. Along with them, it also contains other extra alloying elements.
Types of Stainless Steel
Four major classifications are used to group the family of stainless steels.
Steel alloy duplex
Duplex stainless steel belongs to the 2000 Grade series. It is the best material for demanding environments. These are found in chemical, oil, and gas processing. They are used in equipment, marine, high chloride environments, pulp and paper industry.
Even cargo tanks for ships and trucks, and biofuels plants use it. They are also used in transportation, the food industry, construction, and FGD system components.
Steel That is Martensitic
Compressor blades and turbine parts can be made from martensitic stainless steels. Numerous parts such as kitchen utensils, bolts, nuts, and screws are included too.
Austenitic Stainless Steel
It is used in kitchen appliances, cutlery, food processing equipment and structural components. In the automotive and aerospace industries, it is occasionally referred to as 18/8 due to its 18% chromium and 8% nickel content. Another typical stainless steel is grade 316.
Various products are made with it. It includes tools for food preparation and workbenches for laboratories. Instruments for use in surgery and medicine are also included.
Machinery for processing chemicals, textiles, and pharmaceuticals are involved, too.
Iron-based Stainless Steel
Ferritic stainless steels are frequently used in durable products like appliances and food equipment. They are also used in automotive components and parts. The petrochemical industry, heat exchangers, and furnaces use it.
Conclusion
Stainless steel is primarily made of iron and carbon, like other steels. There are other additional alloying components in it as well. is made up with chromium being the most noticeable. Nickel, magnesium, and nitrogen are additional alloys that are frequently used to make stainless steel.